Waterless car wash enriched for deep gloss shine.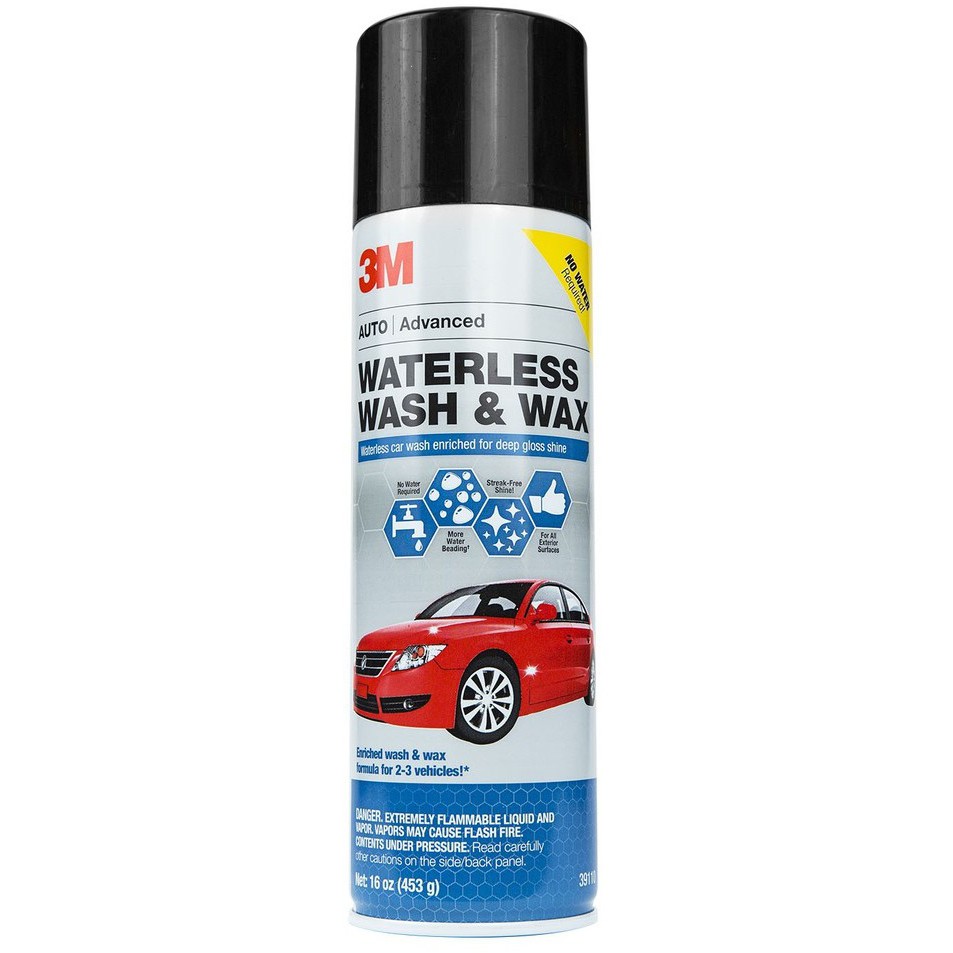 3M™ Waterless Wash & Wax helps allows you to clean your vehicle without water. Simply spray on, and wipe off! Enriched formula for a high gloss shine, and can be used on all exterior vehicle surfaces, from paint, to plastic, chrome, glass, metal, rubber, wheels and tires.
- Can Clean 2-3 Full average sized vehicles
- No water required, easy spray on, wipe off cleaning
- Wipes away easily for streak-free finish
- Sprays out white foam with uniform coverage, making it easy to clean up and avoid residue from any missed spots
- Foaming formula clings for greating cleaning on all surfaces with no mess
- Waxes the car after cleaning which beads water
Applications:
- Light duty detailing to remove light dust pollen and even bird droppings
- Touch-up, light and easy clean
- Product contains silicone, not body shop safe
Directions for Use:
- Apply in shade or out of direct sunlight
- Remove any heavy mud or dirt that may be on your vehicle
- Shake can before use
- Spray a light mist onto the vehicle, let it rest for a few seconds, and wipe off with a clean microfiber cloth.
Note: Microfiber cloth offered as variant is of a generic brand, not 3M.
Frequently Asked Questions:
1. How long can one can of Waterless Wash & Wax last?
On average, a can cleans up to 2-3 medium sized vehicles.
2. Will it damage my car's paint work?
Our formula's foaming action helps to safely lift dirt and dust off your car's surface. It is important to remove large mud and dirt contaminants before applying as they might cause scratches on your car's painted surface during the wash process.
3. The dirt or stain is still there after cleaning!
For more stubborn stains, simply repeat the wash process. We recommend polishing to remove contaminants that have etched below your car's painted surface.
4. Can this be applied in the open, under the sun?
We highly recommend to always apply in a cool, shaded are away from direct sunlight. A hot car surface might cause streaks to appear on your car's surface after application.