We are Singapore Seller with Warranty Coverage, Do take note Overseas seller don't cover Warranty.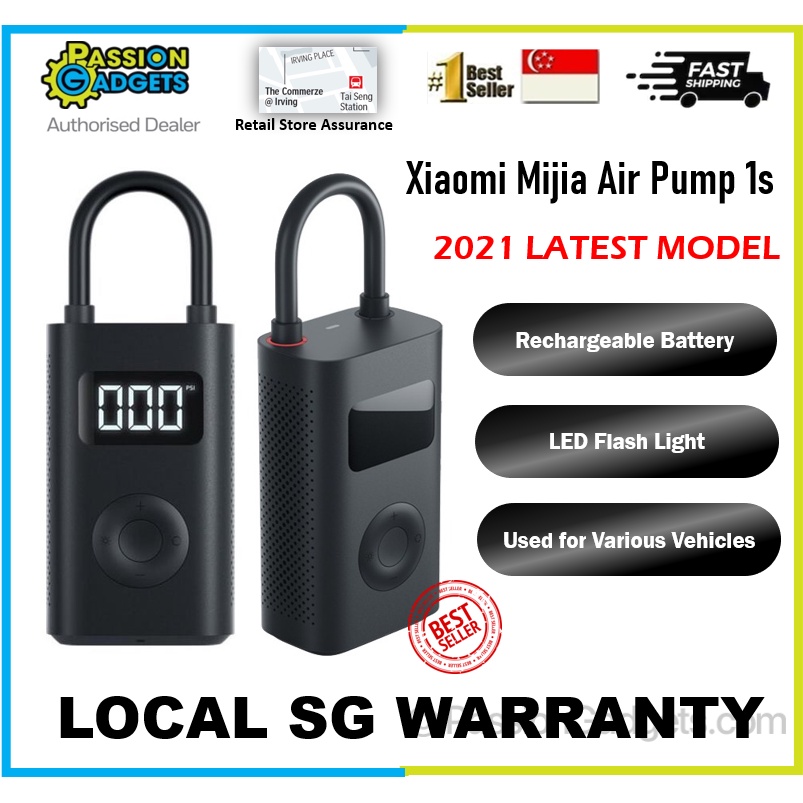 We also do replacement of the internal battery and upgrading of battery high capacity.
We have in-house technicians at our Singapore Service Center located neat Taiseng MRT.
For Warranty Online Registration, do Visit https://www.passiongadgets.com/online-warranty-registration/
HIGHLIGHTS
Small & Convenient
Multifunctional-Used for Bicycle, Motorcycle, Car Type of Tyres and also Balls.
Built-in 2000mAh Lithium Battery
Preset Pressure
Digital Tyre Pressure
Built-in LED Flashlight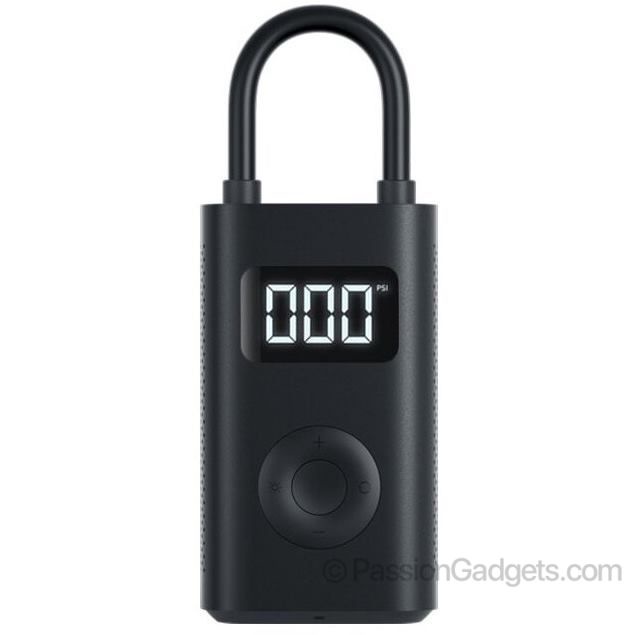 Good for Emergency Needs
New Enhance for 1S - 2021 Version
Type C Charging
【Improve Resistance at Full load by 45.4%】 Fill up to 8 tires.
Precision of tire pressure control increases to ± 1 psi
Specifications
Product model: MJCQ04QJ (1S)
Inflation pressure range: 0.2-10.3bar/3-150psi
Operating Temperature: Charging 0 ° C -45 ° C, Discharge -10 ° C -45 ° C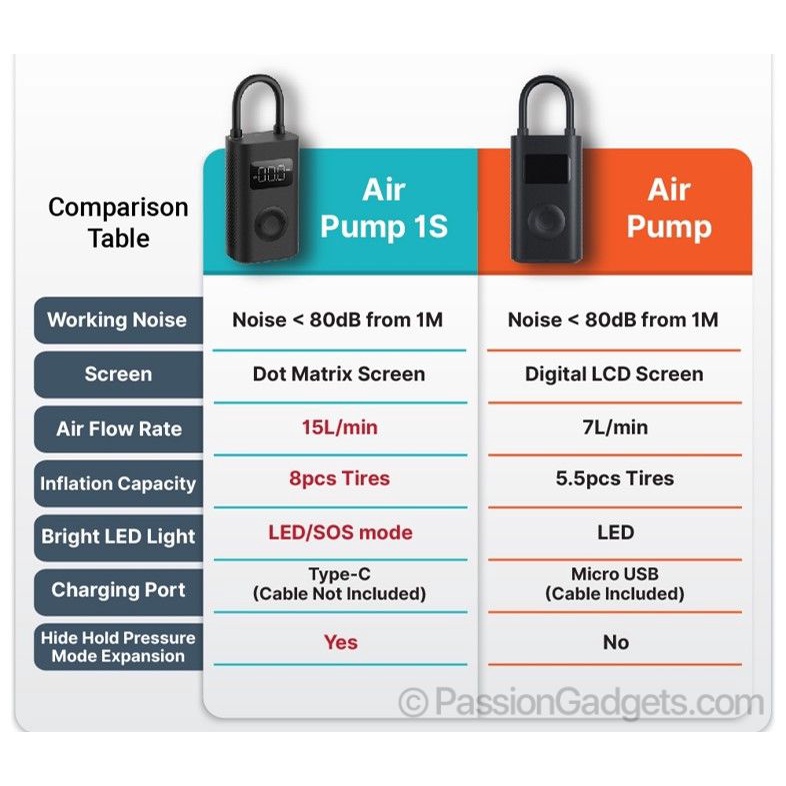 Storage Temperature: -10° C ~ 45° C
Air Hose Dimensions: Air Hose Length 180mm (Including Schrader Valve Adapter and Excluding Thread)
Air Valve Dimensions: Schrader Valve Adapter: 11 x 20mm
: Presta Valve Adapter: 11 x 15mm
Battery capacity: 2000mAh (14.8Wh)
Operating Noise Level: Less than 80dB from 1 meter
Charging parameters: 5V-2A
Charging interface: Micro-USB/Type - C (1S)
Charging Time: < 3 Hours
Sensor accuracy: ±2psi
️ Do take a look at our comparison between models in image shown above.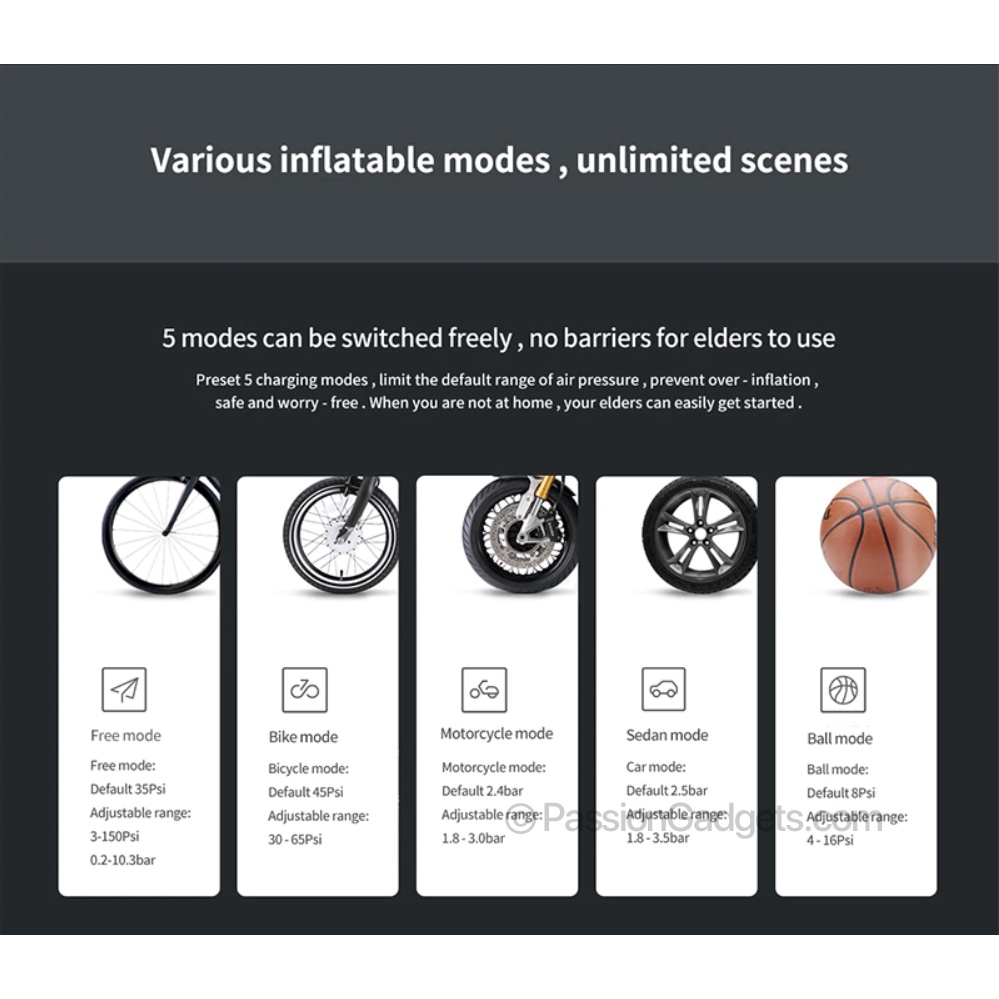 WHAT'S IN THE BOX
1 x Mi Portable Electric Air Compressor
1 x Presta Valve Adapter
1 x Needle Valve Adapter
1 x Storage Pouch
1 x User Manual
Stock in Singapore( Not applicable with status under PRE-ORDER)
Delivery 1-3 days by J&T Express Delivery!( Not applicable with status under PRE-ORDER)
Local Shop Warranty Assurance by Passiongadgets!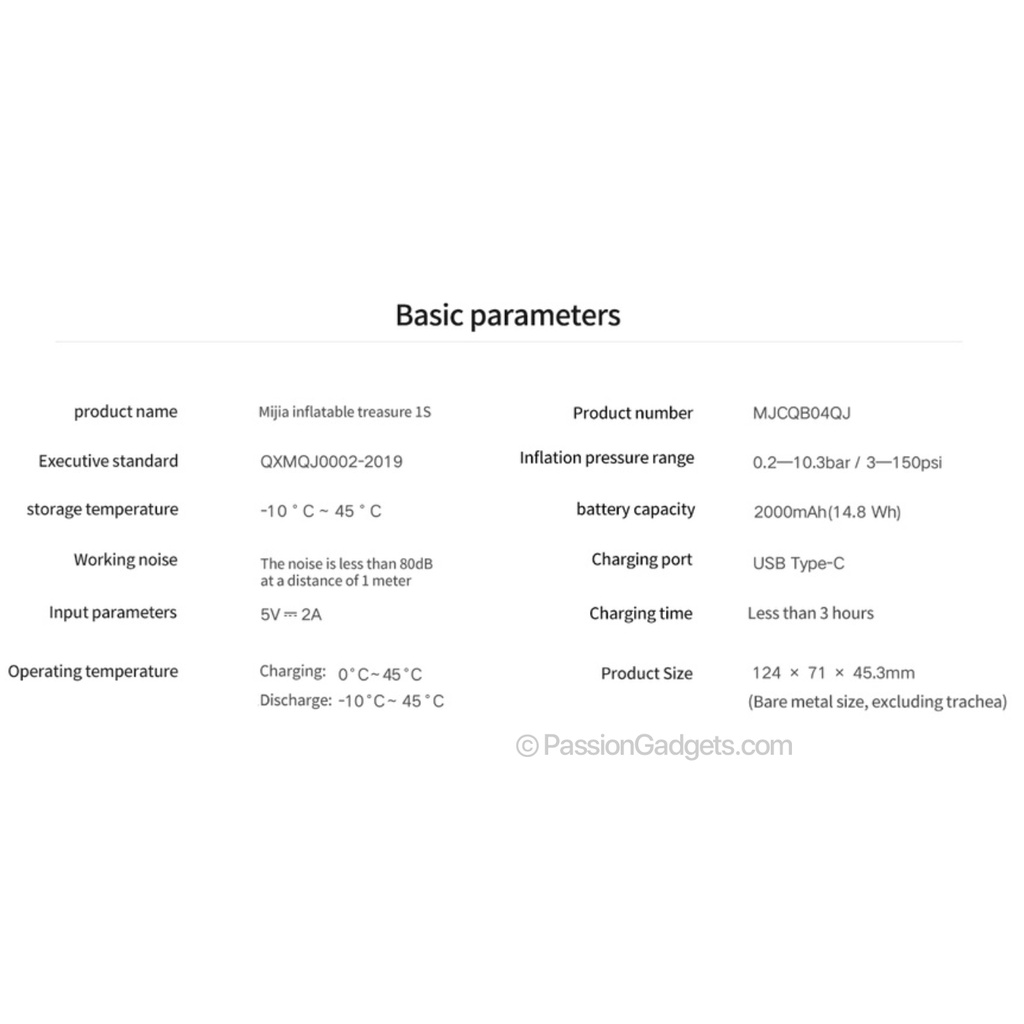 Where to find us?
️ Leong Huat Building #02-07
6 Harper Road, S369674 iPassion Group Pte Ltd
Opening Hours: Mon-Fri: 10am-7pm, Sat-Sun: 10am-6pm
(Mon-Sun Avoid Lunch 2-3pm)(Closed on Public Holidays)
Who are we?
iPassion Group Pte Ltd (GST Registered 201511854Z) founded in 2015 started from a home-based business in 2007. Over the years, we have grown, now offering a wider array of products and services. Be that as it may, we remain true to our roots, upholding our core business model to provide you with affordable prices and top-tier service.
Looking forward to deal with you!
Wholesale, Reseller, Bulk Purchase, Corporate order are welcome!